Design A Commemorative Emblem For
Shinedown
How To Enter This Contest
We require a little higher resolution quality than your phone can support for our submission process. Enter your email address below and we'll send you a link to the contest so that you can enter your artwork from a computer.
Deadline
March 03, 2019
11:59 P.M. PDT
Cash Award
$500.00 USD
Share This Contest
Download Contest Support Files
Commemorative Emblem Specs
Size: 4 inches x 4 inches square
No more than 8 solid colors
No gradient colors or photography
Letters and names must be at least 1/4 inch tall
Include a 1/16 inch wide border around patch design
Avoid any lines thinner than 1 point line weight
Submission types accepted: .jpg, .png, .ai, .eps
Submission size accepted: 384 x 1000 pixels and 300 DPI
Final files delivered as hi-res vector (.AI or .EPS)
DESIGN A SHINEDOWN EMBLEM INSPIRED BY NASA
Multi-platinum rock band Shinedown wants YOU to create orginal designs for a Shinedown emblem inspired by NASA Missions Patches.
The band is reaching out to the Creative Allies community and fans around the world to make a creative impact that will go above and beyond. One Grand Prize Winner will receive $500, a special prize pack of band merchandise, AND their winning design applied to an actual Shinedown mission patch!
Weekly Winners!
In addition to the Grand Prize Winner, the band will select their favorite designs each week, during this six-week contest. Make sure you share your designs with your friends and get them to vote. Fan votes will help the band pick their favorite weekly picks. The six weekly winners will receive a special Shinedown SWAG Pack, and each winner is still eligible for the Grand Prize.
Suggested Theme & Style Guidelines
We encourage fans to take additional design inspiration from the band's new album ATTENTION ATTENTION and the single "Get Up". Check out the More Info page for background on the band and a chance to view their latest music video. Good luck...Over!
Note 1: We are looking for original work, DO NOT use photos, stock images, clip art, or any copyrighted information.
Note 2: Creative Allies and Shinedown have the right to make minor changes to the winning design to ensure that the design is compliant with patch guidelines & manufacturing specs.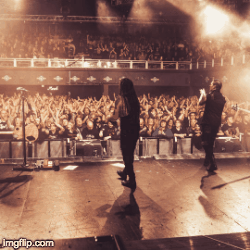 Get Up Lyrics (for inspiration):
I know you're clinging to the light of day
To tell you everything's a-okay
And medication don't do much
Yeah, it just numbs the brain
I'm on the bright side of being hellbent
So, take it from me, you're not the only one
Who can't see straight
If you were ever in doubt
Don't sell yourself short, you might be bulletproof
Hard to move mountains when you're paralyzed
But you gotta try
And I'm calling out
Get up, get up
Get a move on

What's taking so long
Get up, get up
Get a move on
Stop stalling, I'm calling out
Get up, get up
Get a move on
Get up, get up
Ain't nothing wrong
Cuz I believe you can be whatever
And I agree you can do much better, just trust me
Trust me
Everybody wants to sing that song
Some Marvin Gaye, what's going on?
Ain't nothing normal when it comes to you and me
I'd rather twist myself in knots than watch you give up on your dreams
If you were ever in doubt
Don't sell yourself short, you might be bulletproof
Hard to move mountains when you're paralyzed
But you gotta try
And I'm calling out
Get up, get up
Get a move on
Get up, get up
What's taking so long
Get up, get up
Get a move on
Stop stalling, I'm calling out
Get up, get up
Get a move on
Get up, get up
Ain't nothing wrong
Cuz I believe you can be whatever
And I agree you can do much better, just trust me
Yeah I don't know why I never talk about it
I guess that's probably part of the problem
Yeah sometimes you're wrong, sometimes you're right
Just gotta keep moving
Yeah, I'm just gonna keep moving Today, tomorrow, the next
Get up, get up
Get a move on
Get up, get up
What's taking so long
Get up, get up
Get a move on
Stop stalling, I'm calling out
Get up, get up
Get a move on
Get up, get up
Ain't nothing wrong
Cuz I believe you can be whatever
And I agree you can do much better, just trust me
Get up, get up
Get up, get up, get up, get up