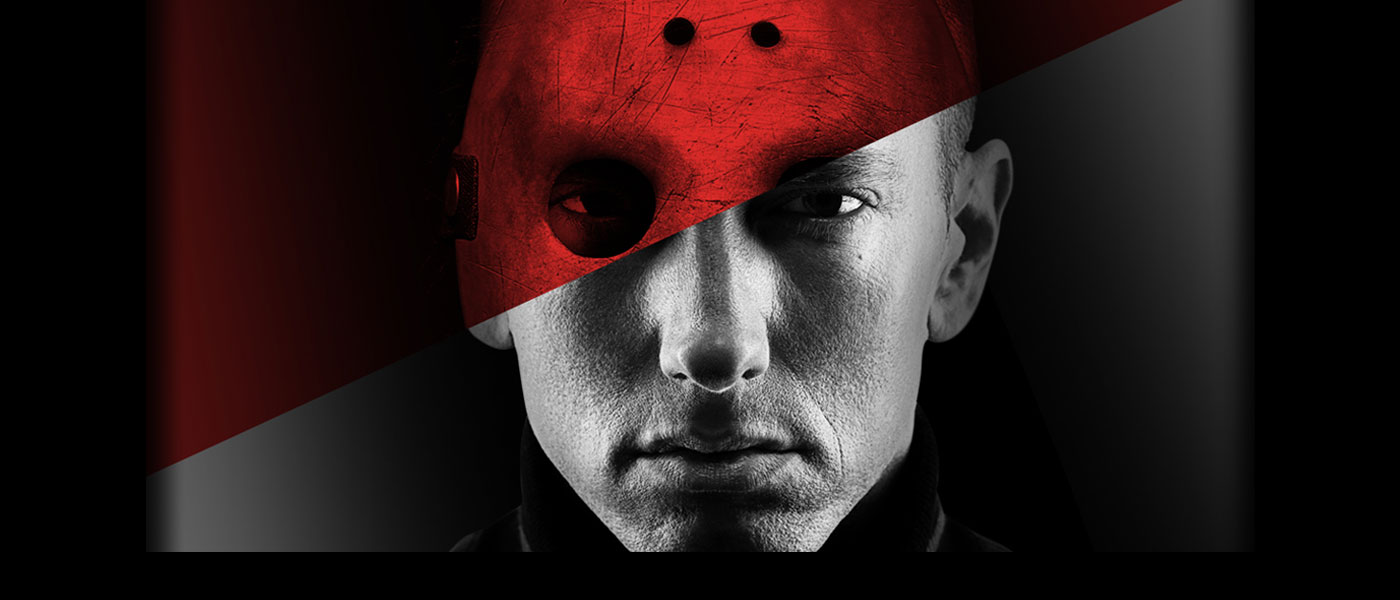 Design An Album Cover For
Eminem
How To Enter This Contest
We require a little higher resolution quality than your phone can support for our submission process. Enter your email address below and we'll send you a link to the contest so that you can enter your artwork from a computer.
Deadline
May 04, 2015
11:59 P.M. PDT
Cash Award
$500.00 USD
Prizes
An Eminem prize pack
Share This Contest
Download Contest Support Files
Album Cover Specs
Your file should be 12" x 12" and have a minimum resolution of 200 dpi
Accepted file formats: .JPG, .JPEG, .TIF, .TIFF, .EPS
.TIFF (or .TIF) formats should be flattened
.EPS formats must have all type converted to vector paths (traced or outlined)
RGB colorspace only
Max file size is 60mb
Design original, illustration-based album art for Eminem. One winner will receive $500 and a special Eminem prize pack.
For the first time ever, Eminem's entire Interscope catalog is available in a limited edition vinyl box set. The Eminem Vinyl LPS includes: The Slim Shady LP, The Marshall Mathers LP, The Eminem Show, 8 Mile Soundtrack, Encore, Curtain Call: The Hits, Eminem Presents: The Re-Up, Relapse, Recovery, and The Marshall Mathers LP2.
The packaging features Eminem half-covered by a red Hockey Mask, and features subtle, iconic designs from throughout his career around the outside edges of the box. Each LP is sealed individually and features the original cover art for each release.
Available on Eminem.com exclusively for a limited time.
Suggested Theme & Style Guidelines
We're looking for re-envisioned and re-imagined illustrations of Eminem's past album covers. Feel free to recreate any of the covers literally or take an interpretative entirely new approach to your artwork.
Please do not feel like you have to reproduce an album cover exactly, most important is that your design is unique and represents what the music from the album means to you.
You can view all of the albums from Eminem's discography below and on the Shady Records website here. You must include the text/title of the album you choose to recreate somewhere on your design.
IMPORTANT: We're envisioning illustration-based work for this, avoid relying on photographs. Use the album covers only as a reference. Do NOT use the original art in your submission or it will be deactivated. We want your design to be original, unique, and indicative of you and your own style!
Use of the official Eminem logo located in the support files is optional.
Things You Need To Include
Required text: Eminem
You must include the text/title of the album you choose to recreate somewhere on your design.
All submissions must be original art/illustrations.
The winning designer should be able to submit a layered file (.psd, .eps, .ai) of the winning design.
Use of the official Eminem logo is optional.
Things You Should Avoid
DO NOT use stock images or clip art.
Please refrain from using photos.
Respect copyright. DO NOT submit copyrighted work.